This week's items of interest arranged in no particular order.
---
News
The Night of the Hunter (1955) Charles Laughton https://t.co/PypeJnp3zO

—
41 Strange (@41Strange) February 09, 2018
Connections/References: "Adopt the pace of nature: her secret is patience." Ralph Waldo Emerson H2O (1929) R… twitter.com/i/web/status/9…

—
TATJANA SL (@TATJANASL) February 07, 2018
A lovely C8.1 flare from AR12699 https://t.co/ZCSnzdC3Do

—
Zeni Nagy (@SpacePlasma) February 07, 2018
RIP John Perry Barlow. Print out his "Principles of Adult Behavior" and stick it on your fridge https://t.co/WODLaBGT8q

—
Jen Carlson (@jenist) February 07, 2018
Stoked to be nominated with @BDHtweets for DESIGN: PROGRAMME CONTENT AND VFX at this years RTS WEST OF ENGLAND AWAR… twitter.com/i/web/status/9…

—
Timmy (@SecretStuffLab) February 09, 2018
WATCH: Another historic launch AND landing for #SpaceX. 2 of the #FalconHeavy boosters land almost simultaneously a… twitter.com/i/web/status/9…

—
Bay News 9 (@BN9) February 06, 2018
A simple message to the world from every woman ever... 👊 #TheMashReport @EllieJaneTaylor https://t.co/lt2oke7E05

—
BBC Two (@BBCTwo) February 05, 2018
Reminder: Al Columbia is my favorite mostly-inactive cartoonist and he should be yours, too. https://t.co/zJhfdNxOq0

—
Iron Spike (@Iron_Spike) February 05, 2018
---
Bookmarked
Where Old, Unreadable Documents Go to Be Understood
"ON ANY GIVEN DAY, FROM her home on the Isle of Man, Linda Watson might be reading a handwritten letter from one Confederate soldier to another, or a list of convicts transported to Australia. Or perhaps she is reading a will, a brief from a long-forgotten legal case, an original Jane Austen manuscript. Whatever is in them, these documents made their way to her because they have one thing in common: They're close to impossible to read."
Facebook Introduces Free Animation Tools For Quill
"Facebook as a maker of animation tools? It happened today. The company just announced a major upgrade to its virtual reality drawing tool, Quill, introducing animation capabilities into the software."
TRAPPIST-1: Planets Likely Rich in Volatiles
"Yesterday we saw that, by pushing the Hubble telescope to its limits, we could make a call about three of the TRAPPIST-1 planets — d, e and f — and one possibility for their respective atmospheres. The Hubble data rule out puffy atmospheres rich in hydrogen for these three (TRAPPIST-1 g needs more work before a definitive call can be made there). This is a useful finding, for hydrogen is a greenhouse gas that can heat planets close to their star beyond our usual norms for habitability. Set out deeper in a stellar system, we can think of Neptune, a gaseous world far different from the kind of rocky, terrestrial-class planets most likely to produce surface water. So on balance, the Hubble work, while not telling us anything more about potential atmospheres in this system, does rule out the Neptune scenario. That leaves open the question of whether future instruments will find more compact atmospheres."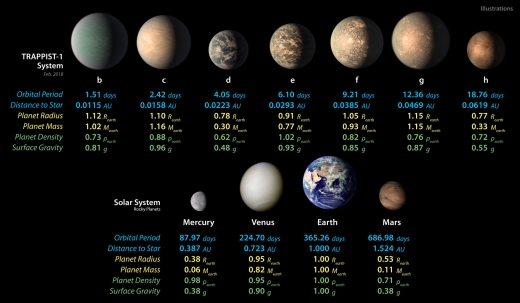 Natural History Museum & UCL unveil face of 'Cheddar Man' in C4 doc
"A brand new Channel 4 documentary, First Brit: Secrets of the 10,000 Year Old Man, has followed pioneering research carried out by a crack-team of Natural History Museum Human Evolution and DNA specialists, University College London scientists and the world's foremost prehistoric model makers, to reveal – with unprecedented accuracy – the striking and surprising face of 'Cheddar Man', Britain's oldest nearly complete skeleton."
Space oddity: how Elon Musk and SpaceX sent a car towards Mars
"A Starman sitting in a tin can is currently navigating the heavens, soundtracked by David Bowie. How did it – and we – get there?"
A Beautiful Map of Boston's Sewers
"EVERY CITY NEEDS SEWERS. After all, they're vital for piping human waste far, far away from where people live. You might say that Boston especially needs them, though. For example, one of the area's best-known residents, the football quarterback Tom Brady, apparently drinks up to 37 glasses of water a day. (And sometimes that still isn't enough, I guess!)"
Flyover of Jupiter's Moon Europa
"Processed using low resolution color images (IR, Green, Violet) from March 29 1998 overlaying higher resolution unfiltered images taken September 26 1998. Map projected to Mercator, scale is approximately 225.7 meters per pixel, representing a span of about 1,500 kilometers."
Eleven Kinds of Blue: Werner's Pioneering 19th-Century Nomenclature of the Colors, Beloved by Darwin
"Finding the words is another step in learning to see," bryologist Robin Wall Kimmerer wrote in her lyrical love letter to moss. And so it is: Description and observation entwine in the consecrating act of paying attention — the act that swings open the gates of perception and allows us to know the world as it really is, not as we have been conditioned to see it by our narrow frames of reference. Our frames of reference broaden only as we enrich the vocabulary by which we describe, label, and classify what we see — in science, in art, in life."
Found: First Evidence of Planets Outside the Milky Way
"Now, astrophysicists from the University of Oklahoma have reported, for the first time, evidence of much more distant planets—wandering through an elliptical galaxy some 3.8 billion light-years away. "We are very excited about this discovery. This is the first time anyone has discovered planets outside our galaxy," said Xinyu Dai, of the University of Oklahoma, in a statement."
Exclusive: Intel's new Vaunt smart glasses actually look good
"Exclusive first look at Vaunt, which uses retinal projection to put a display in your eyeball"
maria kreyn
"Maria Kreyn is a Russian born figurative artist. Deeply indebted to the western tradition of painting evident in the Baroque and Romantic periods, Maria reframes these techniques to tell a story of human intimacy and ceremony, investigating the liminal state of simultaneous connection and detachment."
Looking at the World Through Wim Wenders' Polaroid Camera
Art Cycle
"Edit:3/2/2017: THE ORIGINAL ARTIST / GRAPH IS FOUND!! Check it out here: http://www.marcdalessio.com/self-port… Please leave them a note of thanks! Edit 4/7/2015: Updated the image to make it hopefully slightly easier to understand. Still lots of info crammed into it but oh well…Apologies for how messy this is.. I know this is uploaded at night but i scribbled it in the morning.. really early in the morning >_>"
Neoliberalism has destroyed social mobility. Together we must rebuild it
"That means: replace growth driven by asset price inflation with growth driven by productivity. If, in the process, it has to rely on growth driven by expanding the workforce or catch-up growth with more advanced economies, or even further monetary expansion, it shouldn't flinch from that. But Labour will have to wean consumers off cheap money; wean the elite off tax evasion and rent-seeking; wean entrepreneurs off the creation of low-wage, low value businesses; and wean the private sector off reliance on outsourcing and on rent-seeking activities like PFI."
How the orange haze of Blade Runner 2049's Las Vegas meant 13 hour renders
"Academy Award nominee Richard R. Hoover was Framestore's visual effects supervisor on Blade Runner 2049. The other nominees for the film in the visual effects category are John Nelson, Gerd Nefzer and Paul Lambert. Here, Hoover discusses how getting that orange tinge proved more difficult than first thought, and how making the city look realistic proved even harder."
---
PLAYLIST
You can follow my rolling playlist on Spotify, updated daily.
---
READING