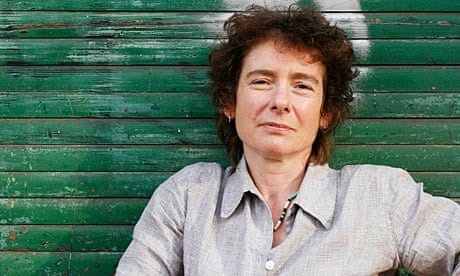 reblogging  Amanda Patterson for Writers Write
Literary Birthday – 27 August

Jeanette Winterson, born 27 August 1959

Seven Quotes

1. Language is what stops the heart exploding.
2. It's not the one thing nor the other that leads to madness, but the space in between.
3.Everything in writing begins with language. Language begins with listening.
4. When people say that poetry is merely a luxury for the educated middle classes, or that it shouldn't be read much at school because it is irrelevant, or any of the strange and stupid things that are said about poetry and its place in our lives, I suspect that the people doing the saying have had things pretty easy. A tough life needs a tough language – and that is what poetry is. That is what literature offers – a language powerful enough to say how it is.
5. What you risk reveals what you value.
6. So from the very first, if I was hurt in some way, then I would take a book — which was very difficult for me to buy when I was little — and I would go up into the hills, and that is how I would assuage my hurt.
7. Always in my books, I like to throw that rogue element into a stable situation and then see what happens.

Jeanette Winterson's 10 Rules for Writing

1. Turn up for work. Discipline allows creative freedom. No discipline equals no freedom.
2. Never stop when you are stuck. You may not be able to solve the problem, but turn aside and write something else. Do not stop altogether.
3.Love what you do.
4. Be honest with yourself. If you are no good, accept it. If the work you are ­doing is no good, accept it.
5. Don't hold on to poor work. If it was bad when it went in the drawer it will be just as bad when it comes out.
6. Take no notice of anyone you don't respect.
7. Take no notice of anyone with a ­gender agenda. A lot of men still think that women lack imagination of the fiery kind.
8. Be ambitious for the work and not for the reward.
9. Trust your creativity.
10. Enjoy this work!
Winterson is a British writer who was awarded an OBE for services to literature. Oranges Are Not the Only Fruit won the 1985 Whitbread Prize for a First Novel, and was adapted for television by Winterson in 1990. She has won various awards around the world for her fiction and adaptations, including the Whitbread Prize, UK, and the Prix d'argent, Cannes Film Festival. She writes regularly for various UK newspapers.